God is in the details.
The Lord directs the steps of the godly.
He delights in every detail of their lives. Psalm 37:23
I slept in a little today (for me, at least), and I didn't think I had time to get to the gym (given I needed to be at church at 10:30). About a week ago, I took my oldest's bike out for a spin and noticed it was a good workout (despite only about 6 out of 20 gears working!). An early-ish morning bike ride sounded great!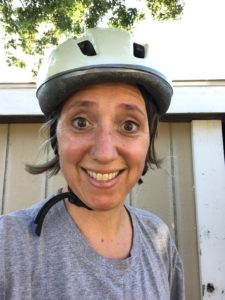 During my neighborhood travels, I saw a free couch. The owner of the house was outside with her son, said there were no issues with the couch but they couldn't fit it in the new place where they were moving. I rode home, got my husband Roy, and we went back to check it out. It mostly fit in the van, and someone else at the house had some bungee cords. I mentioned our find to a friend, and she sent her husband over to help us get it in the house.
God is in the details.
We just HAPPENED to discuss yesterday that we would be comfortable taking a free couch if we had a little information about where it was from.
I just HAPPENED to sleep in and decide to take a bike ride.
I just HAPPENED to ride by this couch.
It just HAPPENED to be in good shape and the type we hoped to buy.
It just HAPPENED to fit in the van.
There just HAPPENED to be a guy sitting outside the house AND a guy coming out of a neighborhood house that helped us fit it in the van.
We just HAPPENED to hang out with new friends last night, and one came over to help get the couch inside.
God blesses His children.
The most beautiful thing about this story? He blessed us with a perfectly good couch even though we have the money to buy a new couch – we just haven't had the time to go and look. His love for us decided to bless us today by making our lives easier.
The lions may grow weak and hungry,
but those who seek the Lord lack no good thing. Psalm 34:10
I am God's favorite, after all! And so are you. God is in the details.