Have you ever noticed that sometimes, God gets our attention in the strangest ways?
So often, we beg for God's guidance in a situation.
We ask for a sign. We generally have an idea of what that sign might look like.
Yet, all around us, God is speaking to us. He has His hand on our situation, guiding us, directing us, but we're so busy looking for a particular sign that we miss Him completely.
I was at a Spin class yesterday morning, and I noticed the man in front of me had the word "God" on his wristband. I strained my eyes to see if I could decipher exactly what it said.
The message of the bracelet?

Watch for God.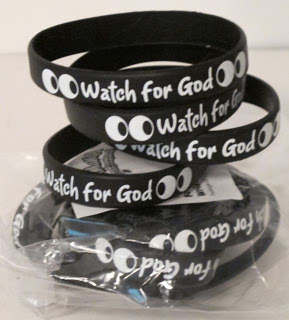 Image from ebay.com
Before Spin, I had been reading 1 Corinthians 2 (finally done with Jeremiah!). I prayed on my run over to the gym: for myself, for others, for God to be revealed in my life and the lives of my family. You can read the whole chapter here. But a few verses caught my heart:
"But it was to us that God revealed these things by his Spirit. For his Spirit searches out everything and shows us God's deep secrets." verse 10
God's deepest desire is that we know who He created us to be. He longs to reveal His perfect will to us. Yet we often pray as if we somehow have to beg in order to get God to speak loudly and clearly enough for us to hear.
God spoke to me through that bracelet. He said, Watch for me. I am working, always and everywhere. Open your eyes. I am calling you to hope (Eph 1:18).
The passage continues:
"No one can know a person's thoughts except that person's own spirit, and no one can know God's thoughts except God's own Spirit. And we have received God's Spirit (not the world's spirit), so we can know the wonderful things God has freely given us." verses 11-12
God has freely given us so much.
His Son (Jn 3:16-17).
His life (Jn 3:16-17).
His Spirit (Acts 1:8).
His joy (Gal 5:22).
His peace (Jn 14:27).
His mind (2 Cor 2:16).
Today, I encourage you. Watch for God. He calls you "beloved." He calls you "mine." He says, "You are my favorite!"
God is working around you, in you and through you. Watch for Him.
"You will seek me and find me when you seek me with all your heart." Jeremiah 29:13