Front Cover
It will be my and Roy's 11th wedding anniversary! So I'm celebrating by giving you the opportunity to download my book for Free!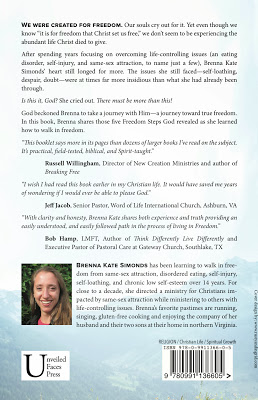 Back cover
I'll remind you again tomorrow! Help me spread the word 🙂
Here's an excerpt from Learning to Walk in Freedom:
Freedom is my anthem—it has been my life's theme. The questions that come with the word freedom are questions I continually ponder. The answers did not come easily.
I became a Christian at age 23. I came to Jesus with a lot of problems: an eating disorder, same-sex attraction, emotional dependency, self-injury, self-loathing, and chronic low self-esteem. My life was controlled by and revolved around my issues and trying to get rid of them.
I felt like I was drowning.
Why, if I had become a new creation in Jesus (2 Corinthians 5:17), did my life not feel all that changed? Why was I still dealing with the same issues? I had a crowd of people continually praying for me. I fasted for long periods of time. I devoured the Word of God and prayed my heart out, including interceding for complete strangers whose prayer requests I found on the Internet! I went to church, led Bible studies, and sang on the worship team. I was writing songs for God and serving Him every way I knew how.
And I was still drowning.
I remember the moment vividly. It was May of 2004 at a campus ministry conference. I was one of the leaders, the teachers, the ones with the knowledge—the answers. Still, I was gasping for air.
Drowning.
Is this it, God? 
I was walking around the old campus. There was a castle, and in the castle was a piano. I sat down at the piano to sing, to write, to think. (I sometimes think best while sitting at a piano.) I began to play, and this is what came out:
There must be more than this 
Over and over, I sang this to my Lord. Deep down in my soul, I expe- rienced God's fingerprint. I knew He was real. And because I had already seen Him working in so many ways, I had to believe that there was more. I desperately needed to hear His voice tell me that all this striving, all this seeking wasn't for nothing.