Front Cover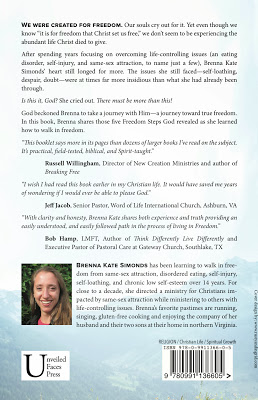 Back cover
The Kindle version is now available! The paperback will take another month, but yes! There will be a paperback for my Kindle-less friends. Read what people are saying about Learning to Walk in Freedom (including the long versions of the reviews from the back cover):
"LEARNING TO WALK IN FREEDOM is just what is says—a guide to freedom. This booklet says more in its 80 pages than dozens of larger books I've read on the subject. It's practical, field-tested, biblical and Spirit-taught. After working for over 20 years with sexually broken people I can heartily recommend this powerful little resource!" Russell Willingham, Director of New Creation Ministries and author of Breaking Free: Understanding Sexual Addiction and the Healing Power of Jesus and Relational Masks: Removing the Barriers that Keep Us Apart
"Jesus said in John 8:36, 'So if the Son sets you free, you are truly free.' That verse always gets a great reaction because we all desire to truly walk in freedom! Through 24 years of ministry and 40 years as a Christian I have observed that most Christians struggle to walk in the true freedom that Christ has made possible for us. In this book, Brenna Kate Simonds lays out five insightful and powerful points that will help any Christian expe- rience and walk in true freedom. I wish I had read this book earlier in my Christian life. It would have saved me years of wondering if I would ever be able to please God. I strongly recommend this book for any believer at any stage in their spiritual journey." Jeff Jacob, Senior Pastor, Word of Life International Church, Ashburn, Virginia
"Brenna Kate makes it easy and approachable. It makes sense that her writing would be like her personality. With clarity, and honesty Brenna Kate shares both experience and truth providing an easily understood, and easily followed path in the process of living in Freedom." Bob Hamp, LMFT, Author of Think Differently, Live Differently and Executive Pastor of Pastoral Care at Gateway Church, Southlake, TX
"Learning to Walk in Freedom is a small book that packs a mighty punch! The author throws light on the shadow that often exists between what we know to be truth and the reality of living in that truth. To know about freedom is one thing, but to live from a place of freedom requires the courage to engage with others and expose those shameful core beliefs that keep us imprisoned in wrong thinking and behaviour. Using her own journey away from lesbianism, an eating disorder, and other damaging behaviours, Brenna Kate Simonds succeeds in offering the reader opportunity to access their own expedition through life and use some of the checks and pointers as they pursue that promised abundant life in Christ." Jeanette Howard, Director of Bethany Life Ministries and author of Out of Egypt: One Woman's Journey Out of Lesbianism and Into the Promised Land: Beyond the Lesbian Struggle
Get your copy of Learning to Walk in Freedom today!
Cover and interior design done by Rusty and Ingrid Creative