Front Cover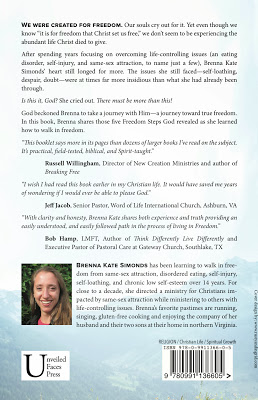 Back cover
Read some new reviews of Learning to Walk in Freedom:
"Brenna has written a wonderful gem and a terrific resource. In almost 15 years of college ministry, I have witnessed students' struggles with addiction, sexual brokenness, and controlling habits. This book provides an inspiring and holistic approach to helping us find freedom. She aptly encourages the reader towards intimacy with the Father, study of the Word, authenticity in community, and practical changes in behavior. I'm excited to use this as a resource with students on my campus." Joseph Gavin, Chi Alpha Vermont
"I am privileged to have known the author since her college days and have seen the growth and maturity that freedom in Christ has developed in Brenna. This is a story of inspiration, rescue, and hope, but not just for the author. Like the traveler in Pilgrim's Progress or Hinds Feet for High Places, Brenna leads the reader on a journey to meet the One who can help anyone learn to walk in freedom. Join her on the journey and find out for yourself."
Mike Olejarz, National Chi Alpha Training Team
"This is a tremendous book, with so much depth and strength. It thrills the heart to read Brenna Kate's testimony in the back of the book. Her journey in five steps is an easy read. God is so good to His children. We just haven't truly let Him give us the freedom in our walk with Him, that He desires for us. This book will help the one seeking to walk in God's freedom. Thank you, Brenna Kate. I will reread the book and will be sharing thoughts from the book at a local support group. Thank you for your obedience in writing this for the rest of us. For those who have not yet read the book, you're in for a very special blessing. Again, THANKS."
Nora S.
This excerpt is a continuation from yesterday:
Later that week, as I continued to cry out to God, He spoke clearly to me concerning some of my questions and struggles. Most of all, He called me to choose to trust Him, to rest in Him, and to allow Him to teach me. He beckoned me to go on a journey with Him, a journey to further whole- ness and freedom, choosing to believe He is who He says He is.
Come to me, all you who are weary and burdened, and I will give you rest. Take my yoke upon you and learn from me, for I am gentle and humble in heart, and you will find rest for your souls. For my yoke is easy and my burden is light. (Matthew 11:28–30)
Thus began this journey into my current understanding of true freedom. (You can read a full testimony in the back of this book.) I'm sure it's not over. I invite you to join me where I am now.
Wherever you are on this journey, there is something to be learned from Him. Even if you're not generally a praying person, I encourage you to pause. Pray the following for yourself as inspired by the Scripture above and prepare to dive into a new level of freedom in your life:
God, I come to You. I am weary, burdened, and I need Your rest. God, I lay down my heavy burden and take Your yoke upon my shoulders, whatever that means, because You say I can learn from You, in Your gentleness and humility of heart. Your yoke is easy and Your burden is light. God, help me to receive that, and prepare me to really hear from You as I read this book. I surrender to all that You have for me as I learn to walk in freedom. Amen.
Get your free copy of Learning to Walk in Freedom today!
Cover and interior design done by Rusty and Ingrid Creative