It has been one challenge after another in getting my paperbacks of Learning to Walk in Freedom to actually arrive at my home. After a long string of issues, I was told my books would arrive Monday. When I checked the tracking Sunday, it said the book would arrive 1/28 (6 days prior). I called Monday, and the terminal was closed due to weather. They are supposed to call to schedule residential delivery, so when I hadn't heard anything at noon Tuesday, I gave them another call. They said my books were out for delivery! I turned to tell my husband, and he said, "I think I hear a truck." Don't you know – it was my books!
My 4 year-old JJ is guarding the goods.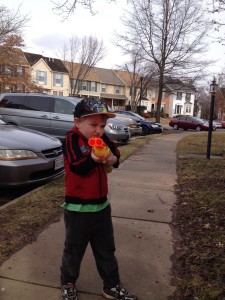 Don't worry. It wasn't loaded.
18 boxes of #FreedomBook!