I'm fully engrossed in the process of creating my focus priorities for the coming year. Let me tell you – I'm excited about 2012!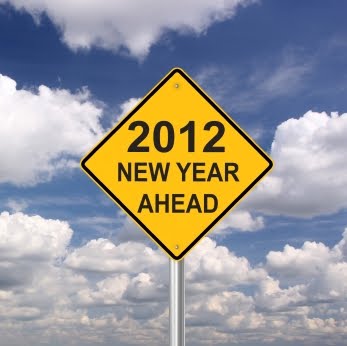 If you Google "new years resolutions" and limit the search to the last week, there are 111 million hits. 111 million! According to
this article
, 44% of Americans make New Year's resolutions. Depending on the source, somewhere between 80-92% of those people will fail at keeping those resolutions.
I've been doing some variation on the theme of New Year's goals, resolutions and focus roles for a decade now. One of my favorite parts of this process is looking back on prior years and seeing what I chose to focus on in the past. I don't have a typed up copy from when I began to do this (I believe it was 2002), and I haven't had a chance to dig into my journal bin to try and find it. Each year since then, I have a record of what I focused on.
I can honestly say this method of creating resolutions (I prefer to call them "roles, priorities and goals") really has made a difference.
Why does creating focus roles help?
1. Fixed target. I'm a very different person than I was a decade ago. Much of that is simply God's grace and the work He has done in my life. But another good portion involved moving toward a goal, a fixed target. I can look back on many of those focus roles and see I absolutely did grow in the areas I purposed to grow in because I kept my sights on a specific aim.
2. Focused motivation. Once I've created the focus roles, I brainstorm and come up with a statement concerning what I want to work on within that role, in addition to why I wanted to work on that role and make it a priority. This becomes my motivation for working on the roles when I'm feeling discouraged.
3. Intentional energy. Having 2-3 focus roles has allowed me to center my energy on specific areas of character growth. Once I have my focus roles, brainstormed statements and purposeful priorities, I come up with goals that are representative of these.
As I am presented with various opportunities in my life, or see things I might want to be part of, I can ask: does this line up with the roles in my life that I've chosen to work on? Will this help me achieve my goals & priorities? It also allows me to take the energy I have and be intentional as to where I will use it, rather than having my energy going in too many directions.
4. Deliberate reminder.
I shared
last week
that I'm taking my running to the next level. When I wake up and it's 16 degrees out, I need a deliberate reminder of why I'm putting myself through this! I remember how much more at peace I feel after running, and how regular exercise is a sanity saver for me. The focus roles serve as a deliberate reminder of what I'm hoping to achieve.
I've already brainstormed my roles and picked basically 3 that I want to focus on. I'm still working on creating the specific goals I'd like to accomplish.
As I brainstormed my roles, I took some time to reflect on 2011. What kind of year was it? How had I changed? I went through my journals and gathered some highlights of the year, some Scriptures that had touched my heart, as well as some words I felt God had spoken to me. And I prayed: did God want me to incorporate any of this in my 2012 roles, priorities, and goals?
I also asked myself: what kind of year do I want 2012 to be? I asked God the same question in prayer. Then I brainstormed: what focus role would bring me closer to that goal?
Are you making New Year's resolutions? Why not try the "focus role" method this year?
What kind of year do you want this to be? More importantly, what kind of year does God want this to be?
Praying for you as you end the year and ask yourself some of these challenging questions and prepare for the new year.