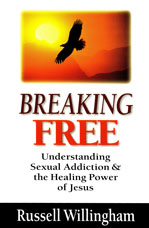 Hopelessness.
Hopeless.
1 a : having no expectation of good or success : despairing
b : not susceptible to remedy or cure
c : incapable of redemption or improvement
2 a : giving no ground for hope : desperate
b : incapable of solution, management, or accomplishment : impossible
— hope·less·ness noun
Hopelessness.
That dark place we resort to when things are not turning out the way we thought & hoped they would. The place we go when we had dared to hope and those hopes were dashed.
Despair. Fear. Isolation.
I'm reading Breaking Free by Russell Willingham (highly recommend this book, and even more so recommend Relational Masks). Breaking Free is geared more toward heterosexual male sex addicts, but don't let that deter you from reading it or continuing on in this blog post. I am neither male nor have I dealt with sex addiction, but Russell Willingham is such a powerful speaker & writer that I am getting a ton out of it.
The chapter I'm on, "The Myth of No-Fault Victimization," discusses the following verse: "When I was a child, I talked like a child, I thought like a child, I reasoned like a child. When I became a man, I put childish ways behind me." 1 Corinthians 13:11
Russell Willingham talks about how in many ways, the sex addict is stuck in childish ways of relating. I think many of us, addicts or not, can relate to this. I heard someone recently refer to it as "Arrested Development" – a part of us or an aspect of our personality can get stuck at a certain age & never mature past that point.
Russell breaks each aspect of the sex addicts arrested development: talking, thinking and reasoning.
I'm going to quote from the book now.
"I thought like a child." Many of us can't use the past tense as Paul did, because we are still stuck in childish beliefs, perceptions and notions that protect us from having to take responsibility for our choices. In another place Paul calls these strongholds (see 2 Cor 10:4-5).
He goes on to outline the various ways of thinking that children exhibit, such as egocentrism, centrism, animism, and hopelessness.
Hopelessness? That seems somewhat out of place. Listen to how he explains it (bolded emphasis mine, italics are the authors).
Hopelessness is not only a response to traumatic losses; it can also become a habit-forming coping mechanism. Children may lapse into hopelessness because they don't have all the information. My daughter once cried uncontrollably because her balloon popped. To her, all was lost. Because of her sobs she was unable to hear me telling her I would get her another one out of the bag. It wasn't until it was blown up and placed in her clenched fists that she opened her eyes and chose to hope again.

For many of us a popped balloon was the least of our worries in childhood. Some of us had childhood years that were filled with parental abuse, rejection or just plain indifference. In order to keep our sanity, many of us had to let go of the dream of ever having our needs met in these relationships.
Is hopelessness your default setting? Think about it. Are you, like Russell's daughter, holding on to that hopelessness with clenched fists? He goes on to say:
Two things can be said about the sexually broken. First, their hopes for love & protection were often shattered in childhood. And, second, they refuse to hope even now even though the Son of God is pleading with them. They cling to the familiar feeling of abandonment and rarely venture outside into the open spaces of God's love & grace. Why? Because they don't really believe it exists, or, if it exists, they believe they are not eligible for it. This is a repudiation of what they claim to believe.
I don't have much more to say about the above. There is a reason He is called the God of Hope. It's because hopelessness is not from God. Look at what it says in Hebrews 6:
Now when people take an oath, they call on someone greater than themselves to hold them to it. And without any question that oath is binding. God also bound himself with an oath, so that those who received the promise could be perfectly sure that he would never change his mind. So God has given both his promise and his oath. These two things are unchangeable because it is impossible for God to lie. Therefore, we who have fled to him for refuge can have great confidence as we hold to the hope that lies before us. This hope is a strong and trustworthy anchor for our souls.
If God is real, if He is who the Bible says He is, then hopelessness is not an option. If His promises are true, if He doesn't change, and never lies, then we have to reverse the pattern in our lives of getting sucked into hopelessness.
If you see a pattern in your life of hopelessness, if that is your default setting, start to choose to trust today by beginning to tell yourself the truth. Ask God to show you how to see your situation with His eyes. Read about hope in the Bible. Memorize those verse and meditate on them when you find yourself sinking into hopelessness.
I'll leave you with a few of my favorites:
"We can rejoice, too, when we run into problems and trials, for we know that they help us develop endurance. And endurance develops strength of character, and character strengthens our confident hope of salvation. And this hope will not lead to disappointment. For we know how dearly God loves us, because he has given us the Holy Spirit to fill our hearts with his love." Romans 5:3-5
"Faith is the confidence that what we hope for will actually happen; it gives us assurance about things we cannot see." Hebrews 11:1
"I pray also that the eyes of your heart may be enlightened in order that you may know the hope to which he has called you, the riches of his glorious inheritance in the saints, and his incomparably great power for us who believe." Ephesians 1:18-19
"This is why we work hard and continue to struggle, for our hope is in the living God, who is the Savior of all people and particularly of all believers." 1 Timothy 4:10
"Through Christ you have come to trust in God. And you have placed your faith and hope in God because he raised Christ from the dead and gave him great glory." 1 Peter 1:21