If you have struggled with an eating disorder, this post might be triggering to you. Please pause and pray before you read this if that is a concern.
I saw you at Whole Foods today.
I noticed you pretty quickly. The clothing you wore, the way you held yourself, the frenzy in which you ate.
I wondered if you had an eating disorder.
I watched you out of the corner of my eye as I reviewed some work on my laptop. I lost sight of you as I packed my things, stopping at the restroom as I left.
There, I saw you. With your drink. Going into the handicapped stall.
Then I heard you vomit.
This is clearly a skill you have mastered. You were quiet. But I knew.
I knew because I've been there.
I had an eating disorder for 14 years. Borderline anorexia with an addiction to laxatives (ED-NOS did not exist then). I know the tricks of the trade, even for the behaviors I never engaged in.
I saw you. And I knew.
I spoke to you in the dining area minutes later, after I fumbled with my wallet to find my card. I told you I had an eating disorder for 14 years. You replied that you had yours for 11 years, and you loved it.
As if it were a pet or possession. Or a lifestyle choice.
You took my card and turned to leave, and I followed, searching for words. I asked if I could say one more thing. You paused and I told you that Jesus loves you and wants a different life for you. You thanked me and left.
I have a different life now. And I remember vividly the moment when everything changed.
I was in LA. I had been "in recovery" for over 4 years, continuing to starve and abuse laxatives while receiving treatment. I thought in that moment, I could live the rest of my life like this.
Suddenly, I keeled over in pain and weakness, as my muscles cramped and stomach revolted. And in that moment, I had clarity for the first time.
Something inside me quietly said, You will die if you keep doing this to yourself.
My treatment team and my friends had been telling me this for years. I finally believed it. 
After several more years or treatment and its ups and downs, I finally began to make choices to move toward recovery. I wanted a different life for myself, no matter the cost, and I was willing to do the work needed to have that life.
I also came to know Jesus as friend and Savior a week after that moment in LA. With the strength that He provides, I have been symptom-free from starvation and laxative use for over 11 years.
And I wouldn't trade any of it for a number on the scale.
11 years ago, as you took your first steps toward your eating disorder, I took my first true steps away. I chose life, and continue to choose it every day.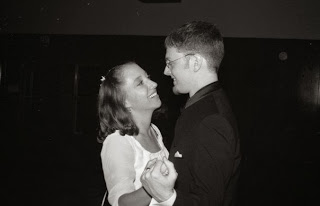 My wedding in December, 2002
My 2 boys at the start of school this year
What I don't know if you can see is that you don't have an eating disorder – your eating disorder has you. It controls you. It is not a lifestyle choice; it's a choice to die. It's a choice to never fully live.
Today, I saw you. I saw your pain, hidden under your baggy clothes and bloodshot eyes. I saw your pale skin and yellow, worn out teeth. But more importantly, God sees you; that is one of His names (Genesis 16:13). He sees you as you are and as He created you to be – and He loves you. He loves you so deeply and passionately that He allowed His Son to die for you, so that you could live a different life.
I don't know if you will ever use my card to find this blog. If you do, know I'm praying for you. I'm praying you have a moment, as I did, where you realize the truth about your eating disorder. And when you face that truth for what it is, I want you to know that there is a friend who can be there with every tear cried, through every painful step toward health. There is a hope offered for a new life, a fresh start. You don't have to hide behind your eating disorder anymore.
It's OK to be seen.
Related posts:
I sold my birthright for a plate of food
Disordered Eating