For a while, I've wanted to use this blog to share some of my songs, for your use and encouragement.
A friend and I were chatting back and forth last week, and she sent me this verse as encouragement, "My flesh and my heart may fail, but God is the strength of my heart and my portion forever." Psalm 73:26
I thought, "Hey, I wrote a song with that verse in it!" And decided to make a recording of it.
Most of the songs I share will be recorded on an iPhone, so they won't be studio quality. But you can download them for free, and I'll include the song sheets if you would like to play them.
The PDF:
If you look at the chords, they appear way more complicated than they actually are. That is the summary of the notes being played for times I played with other instruments.
So let me explain in my best guitar-ese, remembering that I am not a trained guitar player.
Despite the complicated-sounding chord names, "You're My Everything" consists of the same 2 chords, repeated over & over. Here's what they look like on the guitar neck: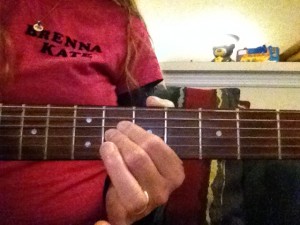 You'll notice I have my fingers on the two middle strings (D & G) on the same fret, and then I move up one fret in the same position. The first chord is the 6th fret, and the 2nd chord is the 7th fret.
Enjoy!