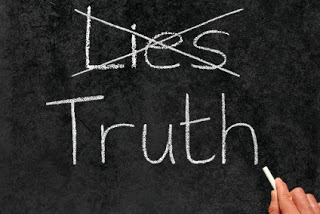 Last week's Think Like a Free Person, Part 1
Thinking like a free person isn't just about addressing the lies we've chosen to believe. It's also about fully embracing all God has for us, and more importantly, all God has already done for us.
This took me years to get. In fact, I'm still getting it.
For so long I relied on my feelings as my understanding of "truth". If I felt something, it was "true". If I didn't feel it, it wasn't "true".
That is such a dangerous way to live.
I remember some very painful and tear-filled prayer times in my early walk with God. I'd cry out to God, "I can't feel you, God! Please be here with me." Satan tried to use that against me. "See, you can't feel God! He doesn't like you anymore! Nah-nah-na-boo-boo!" Of course if he had actually said, "Nah-nah-na-boo-boo!" maybe I would have realized where these thoughts were from.
I thought it was "true" because that's how I felt.
Satan is the father of all lies! Not some lies, but every single one. In the Amplified Bible, the end of John 8:44 says "When he speaks a falsehood, he speaks what is natural to him, for he is a liar [himself] and the father of lies and of all that is false."
I now know it doesn't matter how I feel; I'm always in God's presence. In fact, Psalm 139 says there's nowhere I can go and not be in God's presence. Absolutely nowhere.
Another thing I'd cry out to God is "God, why don't You speak to me? You must not like me or I must have some unconfessed sin in my heart. So, God, I'm going to sit here until You show me what that sin is or until You speak to me."
I was telling myself a half-truth because the Bible does say in Psalm 66:18 "If I had cherished sin in my heart, the Lord would not have listened." I used that verse to beat myself up as proof that I was a pile of sin and piece of crud, and that I couldn't hear from God because I had some cherished sin in my heart. But the truth of the matter is I didn't have unconfessed sin in my heart; I was truly open to God's conviction.
If you are honestly open to hearing from the Lord about any areas of sin in your life, He will show them to you. Just like I don't need to constantly ask my intimate friends if I've done something to somehow offend or upset them, I don't need to go on a constant fishing expedition to figure out if I've somehow offended God or upset Him. I'm not saying that there isn't wisdom in praying, as David prayed in Psalm 139, "Search me, O God, and see if there is any offensive way in me." What I am saying is that we don't have to constantly pick through our day with a fine-toothed comb in hopes that we can find whatever cherished sin is keeping God from hearing our prayers.
Jesus said in John 10:27 (NASB) "My sheep hear My voice". Not "they might hear my voice" or "they could maybe one day hear my voice" or "if they try hard enough", but "My sheep hear My voice". Period. The Bible is full of these types of promises, of what God has already done for us and everything that is available to us simply because Jesus died on the cross and we, in turn, repented of our sin and accepted His sacrifice as our Savior.
If you're still allowing your old ways of thinking about yourself and about God to dictate your worth and your actions, you are basically telling Jesus that He's not allowed to be Lord of your life. You are accepting the salvation He is giving, but rejecting the transformation He is offering.
We need to allow Him to take His proper place in our lives – not only as the Savior of your soul, but also as Transformer of our lives & Redeemer and Renewer of your mind.
Read the following verse as you think about the negative things you have said to yourself: "Men will have to give account on the day of judgment for every careless word they have spoken" (Matthew 12:36). You may have never thought to apply that verse the words you say to yourself, but you are God's precious creation. If you are a believer in and follower of Jesus Christ, you have been adopted as God's child. Think of how God's heart breaks when we speak cruelly to ourselves.
I'm not a subscriber to "name it & claim it", nor do I think we can speak anything we want into being. But there is something to be learned from those theologies. They may be taking a truth of God to an extreme – but there is still some truth there.
Think back to the last big mistake you made. How many times did you call yourself an idiot? Did you curse yourself for taking a risk? Did you berate yourself for for doing something so stupid?
I made a big snafu this week. I was going through the chest freezer to defrost some stuff and left a bag of steaks on the floor when I put stuff back in the freezer. I didn't notice for like 15+ hours. And these were no ordinary steaks
The book of Proverbs says "reckless words pierce like a sword". A pastor friend of mine used to say that words have the power to deposit courage into you (encourage) or rip courage out of you (discourage). How have your words to yourself been today? Are you depositing courage into yourself by replacing the lies with truth or are you ripping courage out of yourself by mistaking the lies for truth?
In Matthew 4, we read the account of Jesus being tempted after forty days of fasting. It was clear that Satan was lying to and trying to trick Jesus. Jesus could have just said, "Satan, you're ridiculous. Go away." Or worse, He could have given in to Satan's demands. But instead, Jesus responded to Satan's lies and even the Scripture he half-quoted with Scripture. Even in his tired, hungry state, Jesus had the Word so deep in His soul that it just flowed right out of Him.
We need that. As I said at the beginning of this series, we need to immerse ourselves in God's Word. Looking at Jesus's example, we can easily recognize the lies when we have been soaked in God's truth.
Today, you have a choice. You can choose to trust that God is who He says He is. You can choose to believe all the promises the Word has for God's children. You can choose to attack the lies with truths from God's Word.
That's how free people think.