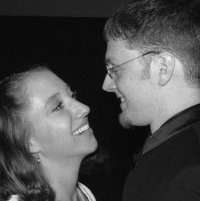 On Saturday, I started thinking about Tuesday. That's today, December 14, the day on which in 2002, I married my husband. The day on which in 2008, I found out I was pregnant with Bunny Boo, the baby who was born much too early and straight into God's arms.
I don't know why God allowed those two dates to be the same. It's one of many times in my life that a date has significance for multiple reasons. Another example is the day Bunny Boo passed away: 4 weeks after we learned of his existence. It was on the same date my father's parents, my grandparents, passed away, except my pebble baby died 1 year after my grandmother died and 40 years after my grandfather (my grandparents died on the same date, 39 years apart). And then my baby JJ, who wouldn't have been born had Bunny Boo survived, is now 1. He was born on the same date that my aunt, the sister of my grandmother, passed away, just 1 year later.
I can't say why God allows dates to line up like that. In this case, maybe He didn't want me to forget. But on Saturday, I started feeling quite sad and very sorry for myself.
Then I decided to take some of my own advice. I decided to allow my feelings to be indicators rather than dictators.
I could allow myself to feel my feelings without choosing to wallow and drown in them.
It is absolutely OK for me to be sad that I lost a child. Absolutely. But often we start to feel bad and then we analyze and rationalize all the reasons we are feeling bad. We stare deeply into our feelings, gazing into each cell and picking apart every nook and cranny. We choose to dive straight into self-pity rather than allowing God into those moments: not only to give us insight but to allow them to be redeemed.
Deeply feeling our emotions is part of the healing process. But it's not the end. Sometimes we have to stay in that place for a little while in order to learn that our feelings are valid, as many of us have been told time and time again not only to ignore and deny our feelings, but also that our feelings, our emotions, our reactions are just too big and too much.
That said, as much as we do want to recognize how we are feeling, we need to remember that our feelings are valid as indicators. If we dwell there too long, we can allow them to transform into dictators.
Today on this beautiful and painful anniversary, I will allow myself to feel my feelings, but I won't permit them to engulf me. Instead, I can acknowledge that my feelings of grieve can coexist with my feelings of rejoicing in all this day encompasses.