I just returned from an amazing Hope for Wholeness conference in the Asheville area of North Carolina.
The theme was Masterpiece in Process.
I was very excited to reconnect with Bob Hamp, one of my unofficial mentors 🙂 Since it was in the elevator that we first met in 2011, he wanted to recreate the moment. That's Meleah with the photo bomb.
Maggie, my daughter, spent most of the conference hanging off my back. Since you can only see the very tip of her head in the above picture, here she is, photo-bombing a shot with my friend and comedian, Christina Ringer.
I can even play the guitar with Maggie hanging out back there!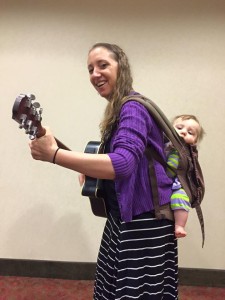 Conferences are my happy place, and this one was no exception. They also remind me that I have a blog 🙂 You can imagine that my life is busy as a mom of 3 and the director of a non-profit ministry. And you'd be right! But I miss writing and am hoping to check in with you more.
Perhaps I'll even share the video of me rapping at the conference!