Brothers and sisters, I do not consider myself yet to have taken hold of it. But one thing I do: Forgetting what is behind and straining toward what is ahead, I press on toward the goal to win the prize for which God has called me heavenward in Christ Jesus.
The above verse caught my eye in church on Sunday (Philippians 3:13-14). "Straining toward what is ahead," it says. Not strolling into it or waiting around for it to happen – but straining. I looked it up in the Greek, and it means exactly what it says:
to reach out towards, to stretch out further, to strain for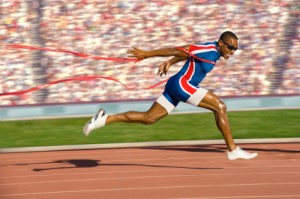 No one ever wins a race by taking it easy. It takes training, it takes effort, and it takes straining.
Yet this does not make us happy. We, like the Israelites, look back longingly at Egypt when things seemed easier. We don't want to stretch ourselves to reach towards what God has for us. We'd rather it be handed to us.
Why do we expect freedom to come easily? According to our nature inherited from Adam, sin is what comes naturally to us. Even with the Holy Spirit living in us, guiding us into all truth, we need to learn to walk in the fullness of the freedom Jesus died to give us (written about in Freedom Step 5 of my book).
Though believers are no longer slaves to sin, we can continue to allow sin to enslave us. Whatever inclination we choose to obey will become our master (Romans 6:16).
This is why we, like the Israelites, must forget what is behind in order to walk in the fullness of the Promised Land God has for us.
This verse has been used by some to "prove" we are not meant to process and heal from our past. That's not what Paul is saying here. One of the ways we shake off those things that hinder us is by allowing God into those places of wounding so He can set us free.
What Paul communicates here is that we are to press forward ("endeavor earnestly to acquire," the Greek says) in order "to take hold of that for which Christ Jesus took hold of me" (v.12).
"Life is not simply a pensive look back to the known, but a daring leap forward to the unknown." Mary DeMuth
There are times for rest, and times for war. There are times for waiting, and times for straining.
What is God calling you to strain toward in this season?