On September 22nd, I ran the Zooma Cape Cod Half Marathon.
It was an amazing race. Still brings tears to my eyes.
Redemption. Read about it here. Amazing.
We had recently found out my dad didn't have long to live.
I run because I can. I ran that race for him and so many others who cannot run.
On race weekend, we stayed at a little resort where my husband Roy stayed growing up. I found this postcard in the gift shop: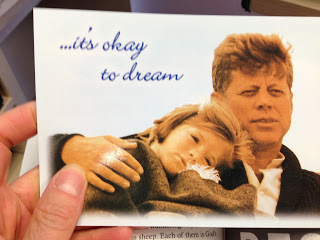 My father loves JFK, so I bought this with the intention of promptly sending it to him.
There was one last possibility for saving my father's life (besides divine intervention): a new chemo. Within a couple of weeks, it became clear that the chemo was making him too sick to continue.  When I found this out, this postcard showed up a day or two later, stuffed in a book. I filled it out, shared some psalms, and encouraged him: It's okay to dream.
And dream he did. When I arrived a few days at the marathon, as they had given him a few weeks to live, you could see it in his eyes. His eyes would slowly drift up, with a faraway gaze.
He dreamt of heaven.
I recently had the privilege of speaking to women of our church. As I prayed the morning of the event, I flipped through my Bible to read various psalms and came across Psalm 126:1 (NIV1984):
When the LORD brought back the captives to Zion, we were like men who dreamed.
Are you allowing yourself to dream? Have your recent struggles and trials made dreaming seem unrealistic, or even painful?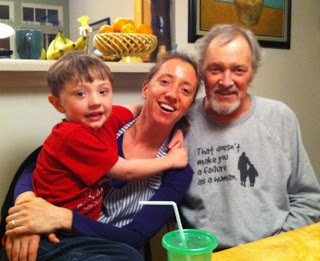 My oldest son Bear, Me, and my dad, March 2012
Yesterday, I ran the ZERO Prostate Cancer Challenge, a 4-mile race on Father's Day, in honor of my dad. He taught me to aim high, and open my heart to what life might bring me.
He taught me: It's okay to dream.
It's time to dream your own dreams again.
"You know a dream is from God when you can let go of it, but it won't let go of you." Darlene Zschech, Kiss of Heaven