Today I'm going to share with you the One Thing that is the key to learning to walk in freedom!
This is not a continuation of last week, but a separate teaching due to the holidays 🙂 When I say "due to the holidays", what I mean is "due to the fact that I am out of town and left my notes for today's entry at home." Then again, I thought it'd be kind of silly to ignore the fact that much of the world is celebrating Christmas tomorrow!
Last year at this time, I published an article entitled "God Gave His Only". You should read it.
God knew before He created you and me that we'd inherit from our ancestors in the Garden of Eden a propensity to make bad choices, with the complete inability to throw off the chains of struggle.
Before the foundation of time, God devised a master rescue mission. Jesus was not God's Plan B or C, as my pastor pointed out last week. He was God's plan A.
My 3 year old son thinks Christmas is all about presents and for the past few weeks has daily presented me with things he cannot live without and must get for Christmas. I realized, quite pitifully, that he had no idea why we even celebrate Christmas in the first place.
Mommy FAIL.
Anyway, we started reading about the birth of Jesus in his kid's Bible. For the first time, I noticed that little manger packed with straw and it really struck me: Jesus was a baby.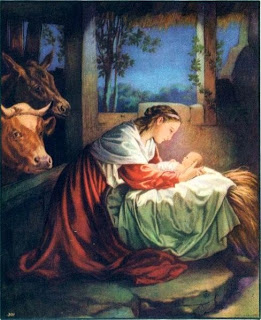 Mary pushed that baby out the old-fashioned way with no epidural or fetal monitoring in a barn with animals and their poo hanging out everywhere.
I'm sure this struck me as especially interesting because I had a c-section with my 3 year-old and a homebirth with my youngest. I had people ask me if having a baby at home is sanitary. More sanitary than a barn!
Anyway, Jesus was a baby. He cried when He needed His mom (contrary to what "Away in a Manger" says), He was breastfed, He had poopy diapers. For years, He needed adults to meet His every need.
Jesus could have easily come as a full-grown man. He was God, after all. He could have floated down from the clouds and made quite an entrance for Himself!
Instead, as my acquaintance Alicia Britt Chole says, Jesus had 30 hidden years
(get the book with your Christmas money) during which He knew His call & His purpose, yet He lived a life that looked pretty normal from the outside – and did not sin.
Jesus was God's plan A for learning to walk in freedom.
God saw that people He loved were drowning in their sin. Because of His great love for His creation, because of His compassionate heart for His children. He knew that it would be painful for both God the Father and Jesus His Son, but He did it anyway. He spared no expense, but extravagantly gave His only; He did what needed to be done in order for us to have the opportunity to be reconciled to Him, the chance to live in freedom, once and for all.
As The Message says, "Christ has set us free to live a free life."
As we meditate on the birth of the Freedom Giver, let us reflect on the words of this song that are heavy on my heart:
Long lay the world in sin and error pining,
'Til He appear'd and the soul felt its worth.
A thrill of hope the weary world rejoices,
For yonder breaks a new and glorious morn.
Jesus, in His birth, His life, in His death and in His resurrection, gives us the opportunity to become recreated into the person He designed us to be. Because of Him, we can walk into "a new and glorious morn": an abundant life of true freedom.
"Let all within us praise His holy name."