Having a death in the family right before Christmas can certainly put a damper on the festivities. I've been asking God to help me find the joy of the season. I know I am certainly glad that Jesus came! But the feelings of missing my father are strong and ever-present. We now live in the town where he lived for the last 8 years, and where he died. I'm driving his car. There are many constant reminders that he is not here.
I just miss him.
The world also has constant reminders that Jesus has come, but not yet returned. Thus, it's difficult to put myself in the shoes of those 2,000 years ago who experienced Jesus' birth and coming firsthand.
One thing that is helpful to me are Christmas carols.
I've been especially struck by Hark The Herald Angels Sing this season. You likely know the first verse:
Hark! The herald angels sing,
"Glory to the newborn King;
Peace on earth, and mercy mild,
God and sinners reconciled!"
Joyful, all ye nations rise,
Join the triumph of the skies;
With th'angelic host proclaim,
"Christ is born in Bethlehem!"
Hark! the herald angels sing,
"Glory to the newborn King!"
The profoundness of Jesus' coming, the joy of His arrival, is continually touched upon in subsequent verses. Here are some of my favorite parts.
Veiled in flesh the Godhead see;
Hail th'incarnate Deity,
Pleased with us in flesh to dwell,
Jesus our Emmanuel.
Emmanuel – God with us. He was pleased to come here, to become a man with all the challenges and weaknesses of humanity.
Light and life to all He brings,
Ris'n with healing in His wings.
He became flesh so that we may have life, and spiritual healing (and even physical healing if His power is present to heal, Luke 5:17).
Mild He lays His glory by,
Born that man no more may die.
Born to raise the sons of earth,
Born to give them second birth.
New life. Eternal life. I keep telling myself that my dear father is having his best Christmas ever.
Come, Desire of nations, come,
Fix in us Thy humble home;
Rise, the woman's conqu'ring Seed,
Bruise in us the serpent's head.
Jesus, make Your home in me. Let the enemy have no place there.
Adam's likeness, Lord, efface,
Stamp Thine image in its place:
Second Adam from above,
Reinstate us in Thy love.
Let us Thee, though lost, regain,
Thee, the Life, the inner man:
O, to all Thyself impart,
Formed in each believing heart.
Help us become like You, Lord.
I hope you are able to take some time to focus on all that Jesus came to give. That is by far the best Christmas present ever.
You are deeply loved. Worth knowing, worth loving and worth creating.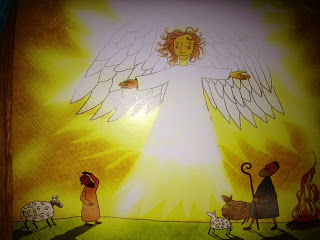 Angel in The Jesus Storybook Bible
If you're looking for a slightly different mp3 version of this hymn, I love the Take 6 version from the "He Is Christmas" album: Hark! The Herald Angels Sing
.