A Christian speaker recently reminded me that words are a container for power. The book of Proverbs says "reckless words pierce like a sword", "the words of the wicked lie in wait for blood", and "when words are many, sin is not absent". In the Bible, words & names are very important. Throughout my life, I allowed people and circumstances to label me, name me, and define who I am.
I was born prematurely in May of 1975. I was given a 50% chance of survival and rode in an ambulance to a hospital 50 miles away since the hospital where I was born did not have premie facilities. I was born without a name. My parents didn't know if I would be male or female, and certainly weren't expecting my arrival almost 2 months early. I spent the next two months, isolated in an incubator. During those years, premature babies were not touched or held. I was so sick that they ran out of places to stick needles, and had to have my head shaved for more needle ports. The names I picked up were: abandoned, rejected, unloved, shameful, worthy of pain – as good as dead.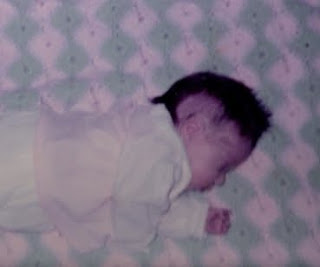 Mohawk Baby Brenna
My mother is an alcoholic and when she drank, she would recount those days, saying' "You were bought from hell." What she was trying to express to me was the trauma of my birth and the extreme circumstances I was rescued out of. What I heard, from my already broken filter, was: inconvenient, bothersome, a burden.
As a child, I even remember being hyper-focused on the lyrics to the songs my parents listened to. I'd zero in on themes of abandonment, and I carried those feelings of fear and shame into adulthood. I heard: be on your guard, you will be rejected and alone.
During my youth, my family attended liberal churches, serving on various committees and singing in choirs. I always believed in God, but it had little effect on my daily life. My mother continued to drink, ranting at me about the evils of men, what a bad child I was, and continually favoring my sister. What I heard: I was not worth protecting, the castaway, again a burden.
I began experimenting sexually with girls at a young age. This continued until, as a high school freshman, I found myself in a physical relationship with my best friend. I also developed an eating disorder and a struggle with self-injury. About a week into my high school relationship, I secretly looked up "homosexuality" in a health book. The book said that if you had attractions for someone of the same gender, then you were gay. I remember thinking, "There it is, in black and white. I am a homosexual." I already felt: unlovable, out of control, too much and now a dyke.
The summer after my high school graduation, I was asked if I was interested in going to church with someone I met in a coffee shop. The church was quick to tell me that homosexuality was a sin that would condemn me to hell. Every night I would cry myself to sleep, praying, "God, change me! Why did you make me gay if that means I have to go to hell? Is it true that You want me to be forever separated from You?" The church I was attending did not share the hope for change that the gospel offers to those struggling with same-sex attraction. Their stance was change first: then God will accept you. In my mind, I had asked God to change me, and He hadn't. And so I embraced my lesbian identity, all the while the labels were being reinforced: rejected, abandoned, unheard, miniscule, unlovable – even by God.
After three and a half years together, my first girlfriend and I broke up. I then met an older married woman, dropped out of college and moved across the country to live with her and her husband. She and I had a mock wedding ceremony and from then on, she introduced me as her "wife." I lived with this couple for close to two and a half years. During this time, I was repeatedly taken advantage of by a man in my life. The names kept coming: worthless, voiceless, ashamed, only good for one thing – sex.
My "wife" and I eventually decided it would best for me to continue my schooling, so I moved to Boston to attend a prestigious music school, the same school from which my "wife" had graduated. Though I was in an environment where my sexuality was affirmed, I was far from happy. My relationship with my "wife" continued to crumble until it ended 10 months after I moved. My eating disorder spiraled out of control. I was afraid & alone.
Christians seemed to pop into my life to share with and pray for me. They never took it upon themselves to point out my sinfulness or say that I should not be a lesbian. They just pointed me to Jesus. Like everyone else, I was a sinner in need of Jesus in my life. My sexual choices were only one of many indications of this need.
Things continued to worsen. I knew that I needed help with my eating disorder, or I was going to die, but I felt I had tried everything and nothing worked. A friend in recovery suggested I try to pray. I thought, "That's the one thing I haven't tried!"―so I started praying.
Around this time, a friend gave me a music CD by a passionate Christian artist. One night while listening, the words of a song gripped my heart. I felt all alone, and my heart was so hard. The voice sang of a friend who was always there, with every tear cried, a friend who would give everything for him. That friend was Jesus – the son of God, who died on the cross to take away my sin, my pain, the false labels and to declare my worth. In the midst of that song, I cried out to God saying, "I want what he has!" God, in His great mercy, met me on that day in January of 1999. I felt: hopeful.
But the names did not disappear. I felt doomed to carry the labels forever. I knew logically that Jesus called me by name for a reason: freedom. At that time, I chose to hold on to hope that He had more for me.
I know many will likely connect deeply with my testimony. Your own names & labels may have been flashing through your mind. I hope you return Monday to read the second part of my testimony and experience, as I did, the truth of Romans 8:24 says, "Hope that is seen is no hope at all. Who hopes for what He already has?"