Friends, we are back to Psalm 25.
Today, we look at verses 8-10:
Good and upright is the LORD;
Therefore he instructs sinners in his ways.
He guides the humble in what is right and teaches them his way.
All the ways of the LORD are loving and faithful
For those who keep the demands of his covenant.
This passage directly reflects the message I heard at church today. Our pastor discussed the importance of living a life wholly devoted to God. As he shared of the importance of turning from our sin, I thought, I wonder if he is going to share the "how" part. Once we make a decision to turn from a sinful habit or tendency, what next?
I of course thought of Learning to Walk in Freedom. He pointed to these verses in James 4 for help in the "how."
As I read these verses from Psalm 25 again in preparing this blog post, I thought, The Bible is full of "how"!
Look back on the Psalm 25 series so far.
Do you need direction? Are you weighed down by the foolishness of some of your decisions?
Are you struggling to see a way out of a trial or life-controlling issue?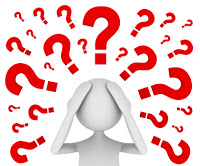 < Need guidance from the Lord? Ask. This may seem really obvious. Of course I should ask for help when I need it! But my most-read post here of all time is "You Have Not Because You Ask Not." Evidently, I'm not the only one who struggles with asking for help when I need God to come through.
Remember that God is good.
He wants to instruct you, enable you and lead you.
God's ways are loving and faithful.
The NASB says, "All the paths of the LORD are lovingkindness and truth."
"Humble yourselves before the Lord, and he will lift you up." James 4:10 (NIV)
Have you ever noticed that sometimes, God gets our attention in the strangest ways?
So often, we beg for God's guidance in a situation.
We ask for a sign. We generally have an idea of what that sign might look like.
Yet, all around us, God is speaking to us. He has His hand on our situation, guiding us, directing us, but we're so busy looking for a particular sign that we miss Him completely.
I was at a Spin class yesterday morning, and I noticed the man in front of me had the word "God" on his wristband. I strained my eyes to see if I could decipher exactly what it said.
The message of the bracelet?

Watch for God.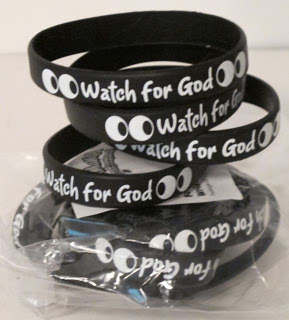 Image from ebay.com
Before Spin, I had been reading 1 Corinthians 2 (finally done with Jeremiah!). I prayed on my run over to the gym: for myself, for others, for God to be revealed in my life and the lives of my family. You can read the whole chapter here. But a few verses caught my heart:
"But it was to us that God revealed these things by his Spirit. For his Spirit searches out everything and shows us God's deep secrets." verse 10
God's deepest desire is that we know who He created us to be. He longs to reveal His perfect will to us. Yet we often pray as if we somehow have to beg in order to get God to speak loudly and clearly enough for us to hear.
God spoke to me through that bracelet. He said, Watch for me. I am working, always and everywhere. Open your eyes. I am calling you to hope (Eph 1:18).
The passage continues:
"No one can know a person's thoughts except that person's own spirit, and no one can know God's thoughts except God's own Spirit. And we have received God's Spirit (not the world's spirit), so we can know the wonderful things God has freely given us." verses 11-12
God has freely given us so much.
His Son (Jn 3:16-17).
His life (Jn 3:16-17).
His Spirit (Acts 1:8).
His joy (Gal 5:22).
His peace (Jn 14:27).
His mind (2 Cor 2:16).
Today, I encourage you. Watch for God. He calls you "beloved." He calls you "mine." He says, "You are my favorite!"
God is working around you, in you and through you. Watch for Him.
"You will seek me and find me when you seek me with all your heart." Jeremiah 29:13
I've been reflecting this past weekend on the progression that occurred when Jesus died on the cross and was resurrected.
I really want to talk about that, but the focus of this post is:
Sunday came!
The tomb was empty!
No need to look for the living among the dead!
No more mourning! No more asking why!
A risen King! The fulfillment of prophecy!
These are all the things I thought this morning as I went for a short run, set out the Easter baskets, and drove to church.
Oh happy day! Jesus has risen!
Chains are broken
Shame has fallen
All my sins are gone!*
As I sat in church, I suddenly had the following thought:

Did you know that every day can be Easter day?
The good news of Jesus' resurrection is good news every day.
Every day, we have access to the power that rose Christ from the dead (Eph 1:19-20).
Every day, we have new mercies available to us (Lam 3:22-23).
Every day, God is faithful, even when we are faithless (2 Tim 2:13).
Every day, God's hope does not disappoint (Rom 5:5).
Every day, we have a choice to trust in God (Rom 15:13).
It doesn't matter what happened yesterday, or if you, like Peter, denied Christ 2 days ago. Even Jesus' death, which on Saturday looked like the end of the story, did not define His future.
There is an opportunity in every day for resurrection, new life – for freedom.
Do you need a fresh start? Grab on to Jesus' hand. Rest in Him. Trust in Him. Believe that He wants to lead you onto new paths (Prov 3:5-6) and into new places.
See, I am doing a new thing! 
Now it springs up; do you not perceive it? 
I am making a way in the wilderness 
And streams in the wasteland.
Isaiah 43:19 (NIV) 

Do you think the tomb on Saturday looked like a wilderness and a wasteland? Well, guess what? Our God turns wastelands into streams and wildernesses into ways. He also turns Saturdays in the tomb into empty tombs on Easter.

Every day, we can go to the cross. It's empty. Jesus is not there. But that cross represents power; there lies the hope of new life.

Every day, we have the opportunity to be resurrected (Rom 6:5). Seize it.
*"To the Cross" by Paul Baloche